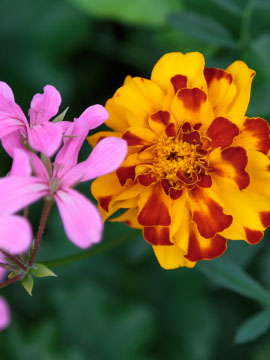 Obituary of Frances Huntoon
Frances, of Abington, PA, passed away on June 18, 2018 at Meadowood Senior Living Community at Worcester, PA where she resided for over thirty years being one of its first residents.
Frances was married for 57 years to the late Raymond C. Huntoon, who predeceased her in 2003.
In 1996, Frances lost her son Philip R. Huntoon to the ravages of Multiple Sclerosis. Phil had been an outstanding athlete at The William Penn Charter School as Captain of the undefeated 1968 football team, Captain of the wrestling team and Co-Captain of the baseball team.
In 2014, Frances also lost her grandson, Charles (Chip) W. Huntoon in a job site accident in Colorado.
She is survived by her two sons Charles (Elaine) and Victor as well as Philip's wife, Ellen Curcio. She also leaves behind her beloved granddaughters; Lauren (Tim) Brown and Jessica (Dayne) Hess and cherished great-grandchildren, Emilie, Caroline, Ryan, Gabriella, and Molly.
Fran found great satisfaction and enrichment for many years while volunteering at the Philadelphia Corporation for Aging. She was an active member of the Pennsylvania Questers, The Wyncote Women's Club, The William Penn Charter School Community and served as president for one year. She was also a member of The Huguenot Society and The Daughters of The American Revolution (DAR).
Fran loved "The Shore" and her beloved "Stone Harbor" home where she would spend summers. Her shore days were spent golfing and ocean bathing into her early 90's.
She was a cheerful, gregarious and friendly person and enjoyed travelling to France with her husband to visit his family and made a number of trips with The Huguenot Society around the world. She liked to play bridge and attend the Philadelphia Orchestra. A daily ritual was reading the Philadelphia Inquirer and solving the Encryptogram and the Jumble puzzles.
Fran was a 1942 Graduate of Hood College where she earned a B.S. Degree in Mathematics. She was recruited to work at Langley Field in a wind tunnel on airplane wing calculations which helped to provide information to assist in the redesign experiments for improvement in wing lift, probably for The Manhattan Project, but of course no one knew exactly what the purpose was at the time.
Fran lived an active and independent life until just before her death. Her last years were enriched by dear friends and family.
Fran's family is truly indebted to the many caring professionals and compassionate staff at Meadowood.
Relatives, friends and entire staff of Meadowood are invited to a Memorial Service to be held in the Auditorium at Meadowood Senior Living, 3205 Skippack Pike, Lansdale, PA on Wednesday July 11, 2018 at 10 a.m. After the service, friends will be received. Interment will be private at Arlington National Cemetery.
In lieu of flowers, charitable donations may be made to the: "Johns Hopkins University", c/o Funds for Johns Hopkins Medicine, 550 North Broadway, 7th Floor, Baltimore, MD 21205, with a note indicating the donation is in memory of Philip R. Huntoon in honor of Frances L. Huntoon's legacy to support Multiple Sclerosis Research in The Department of Neurology.