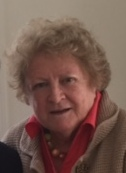 Obituary of Sheila Año
Sheila Kirwan Año, age 77, of Wyndmoor, died suddenly on June 30, 2017. She was the beloved wife of 50 years of Antonio C. Año, M.D. She is also survived by her loving daughters and their husbands: Licia and Matthew Marrone and Marcie and Brian Bohan; by her dear grandchildren: Henry Bohan, Griffin Bohan, Francesca Bohan and Andrew Marrone; by her brother, Gerard Kirwan and by her sisters, Mary Forde and Elizabeth Ferrari.
Funeral Mass will be celebrated at 11:00 AM on Saturday, July 8, 2017, Our Mother of Consolation Church, 9 E. Chestnut Hill Avenue, Phila., PA 19118, where friends will be received from 10:00 AM until the time of the mass. A reception will follow the mass. Interment will be private.
In lieu of flowers, memorial contributions may be sent to Our Mother of Consolation Church (address above) or to Children's Hospital of Philadelphia, 3401 Civic Center Blvd., Phila., PA 19104 (www.chop.edu/give) or to PCD Foundation (www.pcdfoundation.org)