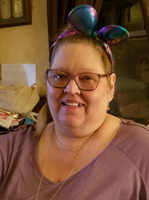 Gayle Elaine "Gay" Oswald
Gayle Elaine "Gay" Oswald, a resident of the Lawndale Section of Philadelphia, PA died, at the age of 58, on April 26, 2019.
Born in Philadelphia, PA, she was the daughter of the late William Oswald and the late Gale Greenwald Oswald.
Gay was a Registered Nurse and most recently worked for the Jefferson Surgical Center at the Philadelphia Naval Yard. Earlier in her career, she worked for Temple University Hospital, Northeastern and Episcopal Hospital.
She is survived by her loving children; John David Betham, Jr. and his wife, Meghan and Faith Ann Betham and by six grandchildren. She is also survived by her girlfriend, Colleen Lee.
Services will be private.