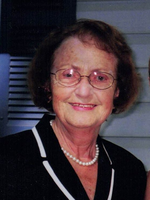 Janet Fisher Benkert
Janet Eileen Benkert, a 63-year resident of Willow Grove, PA and formerly of the West Oak Lane Section of Philadelphia died, at the age of 92, on April 27, 2019. She was the devoted wife of the late James E. Benkert for 59 years.
Born in Philadelphia, PA, Janet was the daughter of the late Daniel Fisher and the late Ruth Nace Fisher and the sister of the late Doris Dale and the late Daniel Fisher. She graduated from Germantown High School in 1945.
Her 54-year career as a secretary began with the Philadelphia Bulletin where she was employeed for 20-years and later was with Lewis and Gilman Advertising from where she retired in 2002.
She was a member of Abington Presbterian Church.
Janet enjoyed reading and gardening and had a special devotion and fondness for cats.
She was very proud supporter of World War II Prisoner of War Veterans, especially of her late husband, Jim. She enjoyed attending the POW reunions and events.
She is survived by her nephews; Ed Dale and Larry Dale and his wife, Frances; by her great- niece, Sharon Strasbaugh and her husband, Wayne and their families.
Funeral Service will be held at 11:00 AM on Friday, May 3, 2019, Abington Presbyterian Church, 1082 Old York Road, Abington, PA. Relatives and friends will be received, in the church, from 10:00 AM until the time of the service. Interment will be in Whitemarsh Memorial Park.
Memorial contributions may be sent to Kitty Cottage, 317 W. Johnson Hwy, Norristown, PA 19401.