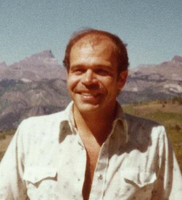 James Kenneth "Ken" Adlam
James Kenneth "Ken" Adlam, Jr., age 75, a long-time resident of Abington, PA died on March 23, 2019. He previously resided in Denver, Co and Columbia, SC.
Born in Abington, PA, he was the son of the late James Kenneth Adlam, Sr. and Ruth Elizabeth (neé May) Adlam. Ken graduated from William Penn Charter School in 1961. He went on to earn his degree in Political Science and Journalism from Duke University in 1965. Furthering his education, he later studied at the University of South Carolina where in 1970, he earned his degree in Law. In 1988, Ken received his Master's degree in Education from Widener University.
Ken was employed as a School Social Worker for the School District of Philadelphia, from where he retired in 2009. In earlier years, he was a Youth Counselor in Denver, Co. He was a member of the Philadelphia Federation of Teachers.
Ken had a fondness for animals and was an animal rights activist. He was a Member of the Humane Society, PAWS Animal Welfare Society and ASPCA (American Society for the Prevention of Cruelty to Animals). He was a movie aficionado and critic. He was passionate about politics and enjoyed traveling. He was a nature enthusiast and a member of the Audubon Society.
In addition to his mother, Ken is survived by his dear siblings: Karen Adlam Baldwin, John Keith Adlam, Kathy Adlam, Jon Kevin Adlam, Kristina May Shakarjian and by nieces and nephews.
Services will be private. Memorial contributions may be sent to Tiny Miracles, 696 New Galena Road, Chalfont, PA 18914, phone 215-997-2844 or to Paws Animal Rescue Society, Donor Services, 100 N. 2nd Street, Phila., PA 19106, phone 215 298 9680 ext. 15 (www.phillypaws.org)