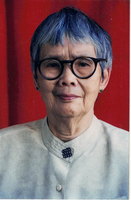 Siu Lien H. Tsung
Siu Lien Tsung, age 101, a resident of Abington, PA for the past 40 years and formerly of Dresher, PA died on March 13, 2019. She was the devoted wife of the late Chiu Ling Tsung.
Born in Fujian Province, China, she was the daughter of the late Huang Oing Hui and the late Hong Su Xi.
Siu Lien earned her degree in Nursing Education from the University of Pennsylvania.
She was a devoted wife, mother, homemaker and grandmother. She enjoyed classical music and the opera. She was also an enthusiastic baseball and football fan and was entertained by TV game shows. Cooking and gardening were her other enjoyments.
She is survived by her loving sons and their spouses: Allen Tsung and Carolyn Ming of Jenkintown, PA and Michael Tsung and Sun Mi Choi of Glenside, PA; by her grandchildren, Ashley Tsung and Joseph Tsung and by a brother and a sister.
Memorial service will be held at Abington Presbyterian Church, Old York and Susquehanna Roads, Abington at 1:00 PM on Wednesday, March 20, 2019. Relatives and friends will be received in the church from noon until the time of the service. Interment in Maple Grove Cemetery in Queens, NY will be be held privately on Tuesday, March 19, 2019.
In lieu of flowers, memorial contributions may be sent to Abington Presbyterian Church, 1082 Old York Road, Abington, PA 19001.