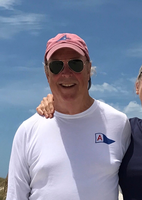 Thomas G. Haight
Thomas G. Haight, age 69, a resident of Erdenheim, PA for 33 years and Kennebunk Beach, ME for his entire life, and formerly of Chestnut Hill and Glenside, died on February 25, 2019. He was the devoted husband of Katharine Rohrer Haight for 45 years.
Born in Abington, Tom was the son of the late David C. Haight and the late Nellie I. Fitzgerald Haight. After graduating from the Northwood School in Lake Placid, New York in 1968, he earned a BA from Hobart College in 1972 and an MBA from LaSalle University in 1989. He worked as a Commercial Banker for Wells Fargo for 40 years, retiring in 2012.
Tom was a board member and treasurer of the Webhannet Golf Club and the Webhannet Charitable Foundation in Kennebunk Beach, ME, as well as a former board member and treasurer of the Philadelphia Cricket Club. He was also a member of the Chestnut Hill Presbyterian Church.
Tom was an avid golfer and enthusiastic fan of the Boston Red Sox and the New England Patriots. He enjoyed being on the ocean and fishing with friends and family. Tom also loved rock-and-roll music and the Great State of Maine.
In addition to his wife, he is survived by his daughter, Emily A. Haight, and her husband, Nicholas C. O'Leary of New York, NY and his brother, David C. Haight, Jr. of Jeffersonville, PA.
Services will be private. In lieu of flowers, memorial contributions may be sent to Kennebunk Beach Improvement Association (KBIA), P.O. Box 707, Kennebunk, ME 04043. (www.kbia.net)