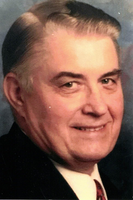 Robert H. Shaw, Sr.
Robert H. Shaw, Sr., age 84, a resident of Christ's Home in Warminster and formerly of Horsham for over 50 years died on January 21, 2019. He was the beloved husband of Anne-Marie Shaw (neé Hubert) for 61 years.
Born in Philadelphia, PA, Bob was the son of the late Helen Dunnigan Shaw and the late Hugh Shaw.
He graduated from Central High School in 1953 and then earned his Bachelor's degree in Electrical Engineering and Master's degree in Business Administration from Drexel University. Bob's professional career as an Electrical Engineer began with Leeds & Northrup Company, from where in 1959, he took leave to serve with the U.S. Army. After returning from military service, Bob resumed his position. He later worked for Fisher & Porter Company and then for Decision Data, in Horsham, from where he retired.
For more than 30 years, Bob proudly served as a member, and for a time as President, on the Hatboro Horsham School Board. He was a member of the Artisans Club.
In addition to his wife, he is survived by his son, Robert H. Shaw, Jr., by his grandchildren: Robert Stasiunas, Kaitlyn Shaw, Matthew Shaw and Rachel Shaw, by his great-granddaughter, Hailey Stasiunas and by his brother, Hugh Shaw. He was preceded in death by his daughter, Maryanne Kipe, by his brother Alan and by his sister, Elaine.
Funeral Mass will be celebrated at 11:00 AM on Monday, January 28, 2019 at St. Catherine of Siena Church, Horsham, PA, where relatives and friends will be received from 10:00 AM until the time of the mass. Interment will be private. In lieu of flowers, memorial contributions may be sent to St. Catherine of Siena Church, 321 Witmer Road, Horsham, PA 19044.