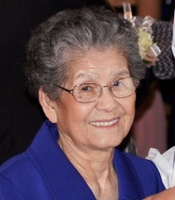 Hiroko Dean
Hiroko Dean, age 92, a resident of Ambler, PA for the past 55 years, died on January 13, 2019. She was the devoted wife of the late John Thomas Dean.
Born in Ganzan, Korea, she was the youngest child to her Japanese parents, the late Kazuo and Fujie Aoki. After graduating from Sasayama High School in Sasayama, Japan, Hiroko studied nursing at Himeji Nursing School.
Hiroko was a Licensed Practical Nurse and worked at the Artman Home in Ambler for more than 40 years. She was a dedicated worker and was appreciated by the residents, co-workers and administration of the Artman Home for her high standards. She received numerous awards for exceptional patient care.
She enjoyed crocheting, reading and watching the Philadelphia Phillies.
She is survived by her son, John H. and his wife Charlotte Dean of Abington, PA, grandchildren; J.T. and Mary Dean of Maryland and Meredith and Rudy Stensaas of New Hampshire, two great-grandchildren and by numerous brothers-in-law, sisters-in-law, nieces and nephews of the extended Dean family. She was preceded in death by her daughter, Anna Dean.
Memorial service will be held at 1:00 PM on Friday, February 8, 2019 at Abington Presbyterian Church, Old York and Susquehanna Roads, Abington, where relatives and friends will be received after the service. Interment in Whitemarsh Memorial Park will be held privately.
In lieu of flowers, memorial contributions may be sent to Abington Presbyterian Church, 1082 Old York Road, Abington, PA 19001 or to Artman Home, 250 N. Bethlehem Pike, Ambler, PA 19002.