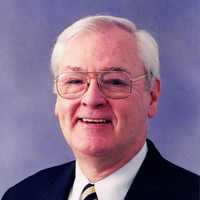 The Honorable Lawrence Curry
The Honorable Lawrence Hummel Curry, 83, a resident of Jenkintown for 78 years, passed away on December 17, 2018. He was the beloved husband of Shirley Warren Parker Curry for 62 years.
Born in Camden, New Jersey, he was the son of the late W. Lawrence Curry and the late Mary Louise Hummel. He graduated from Jenkintown High School in 1952 and attended the University of Pennsylvania and Temple University. Larry graduated in 1957 with a BA in History and a Master's degree in History from the University of Pennsylvania and another Master's degree from Temple University. He was also a member of the University of Pennsylvania Band.
Larry was employed as a History professor at the University of the Arts for 40 years as well as a Montgomery County Commissioner, Jenkintown Borough Councilman and State Representative of PA 154. Larry retired from the State House in 2012 after 22 years of service.
He was a member of the First United Methodist Church of Germantown for 78 years. Larry devoted his life to the service of others.
In addition to his wife, he is survived by his children; Jennifer Lynn Coleman (Christopher Coleman) of New Rochelle, NY, Jeffery Lawrence Curry (Joyce Irene Moss) of Cheltenham, PA and Jacquelyn Curry Todaro (James C. Todaro) of Jenkintown, PA; eight grandchildren; Christina Coleman, Kathrine Coleman-Bintz (Gavin Bintz), Benjamin Coleman, Emily Curry, Dylan Curry, Tyler Curry, Courtney Todaro and Jeremy Todaro; and one great-grandchild, Reya Bintz.
Funeral Service will be held on Friday, December 21, 2018 at 1:00 PM, First United Methodist Church of Germantown, 6001 Germantown Avenue, Philadelphia. A visitation will be held on Thursday, December 20, 2018 from 7:00 – 9:00 PM, Helweg & Rowland Funeral Home, 1059 Old York Road, Abington. Interment will be in George Washington Memorial Park. A reception will follow the interment.
In lieu of flowers, memorial contributions in Lawrence's name may be made to Jenkintown High School, 325 Highland Avenue, Jenkintown, PA 19046, University of Pennsylvania, Gifts Accounting & Administration and Records, 2929 Walnut Street, Suite 300, Philadelphia, PA 19104-5099 or the First United Methodist Church of Germantown, 6001 Germantown Avenue, Philadelphia, PA 19144.