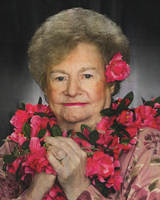 Marguerite Joan Sweeney
Marguerite Joan (Peggy) Sweeney, age 88, a resident of Brookside Healthcare & Rehab Center, Roslyn, passed away on December 16, 2018 surrounded by her family.
She was the devoted wife of the late John F. Sweeney, Jr.
Born in Philadelphia, PA, she was the daughter of the late Nicholas J. O'Connell and the late Marguerite (nee Hobson) O'Connell.
She is survived by her daughter, Peggy Mark, and her son-in-law, Peter Mark.
Graveside services will be held at 11:00 a.m. on Friday, December 28, 2018 at Our Lady of Grace Cemetery, 1215 Super Highway, Langhorne, PA.
In lieu of flowers, memorial contributions may be made to Brookside Healthcare & Rehab Center Residents Fund, 2630 Woodland Road, Roslyn, PA 19001.