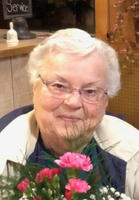 June Mary Evans Kelly
June Mary Kelly, age 85, formerly of Abington, PA died on December 15, 2018.
Born in Abington, she was the daughter of the late Arthur William and Josephine Ware Evans. June was married to the late James P. Kelly, her beloved husband for 52 years. She was a registered nurse for many years and loved working with babies and children.
survived by her daughters Megan (Tom) Houston and Diane (James) Wolfgang; five grandchildren, two brothers as well as many other friends and family. She was preceded in death by her son, James P. Kelly, Jr.
Memorial service will be held at 11:30 AM on Thursday, December 27, 2018 at Abington Presbyterian Church, 1082 Old York Road, Abington. There will be a greeting and reception in the church parlor after the service. Interment in George Washington Memorial Park will be private. In lieu of flowers, memorial contributions may be sent to the charity of your choice.