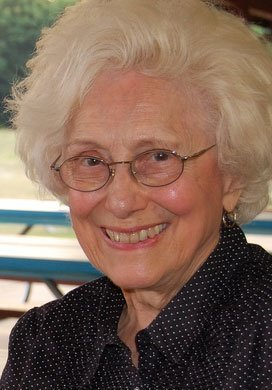 Obituary of Joan Johnston-Stern
Joan Johnston-Stern, 85, passed away peacefully on April 20, 2017 at home at Rydal Park, Jenkintown, PA.
Mrs. Johnston-Stern was a beloved mother, grandmother, sister, aunt, cousin, friend, volunteer, and inspired Democratic Party grassroots politician. She was born on March 21, 1932, the eldest child of Werner (a professor of organic chemistry at the University of Michigan) and Marie (nee Knaphurst) Bachmann (a University of Michigan administrator) in Ann Arbor, Michigan. Johnston-Stern moved to Wyncote, PA in 1964 with her husband, Robert F. Johnston, M.D. (1932-1982) and their six children: Laurie, Wendy (Tom Bracaglia), Tracy (Jeff Kirchner), Thomas (Claire Marie), Robert (Stacie), and Jennifer (Will Nagy.)
In the 1970s, Johnston-Stern became involved in environmental activism and local Democratic Party politics in Cheltenham Township. She was a key member of the campaign teams for Township Commissioner, School Board, and Montgomery County Commissioner. Her work and unflagging support was crucial in many victories, and helped the Democrats increase their political influence in local, county, and national government. Johnston-Stern married Peter Stern in 1985 after the death of Dr. Johnston. The Sterns spent more than 25 years together sharing their interests and passions for politics and community engagement. They worked as a team whether it be on the election of a Democratic majority for Montgomery County, the preparation of election poll materials for Cheltenham Township, a grandchild's birthday, or a meal, often for 20 or more, at their home in Wyncote. In addition to Democratic politics, Mrs. Johnston-Stern was focused on her family, including Peter's children, Steven Stern (Laura Kavesh) and Andrew Stern (Melissa McGrain), her children, and her nineteen grandchildren.
Mrs. Johnston-Stern is survived by her children, the Stern children, the grandchildren, her brother Roger Bachmann (Marilyn), brother-in-law Richard Johnston, and sisters-in-law Dene Mayer and Marjory Johnston (Doug Welker.)
A service in Mrs. Johnston-Stern's memory will be held on Saturday May 13, 2017 at 11 am at Calvary Presbyterian Church, Wyncote, PA. A reception will follow the service. Gifts may be made in her memory to the Cheltenham Democratic Committee, 211 W. Waverly Road, Glenside, PA 19038 (www.cheltenhamdemocrats.org) or a charity of choice.