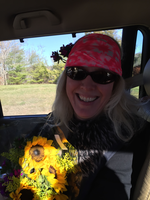 Eugenia Mary Brennan
EUGENIA MARY BRENNAN, age 52, of Lansdale died on April 7, 2018.
Born in Abington, PA, she was the beloved daughter of the late Eugene V. Brennan, II and the late Nancie Griffin Brennan and the sister of the late Nancie Cecelia Brennan.
She is survived by her loving siblings and their spouses: Eugene V. Brennan, III, Peggy and Michael Jordan, Judith B. and Tim Wisecarver, John J. Brennan, Betsy Brennan, Timothy A. and Karen Brennan and by her beloved nieces and nephews.
Funeral Mass will be celebrated at 10:30 AM on Friday, April 13, 2018 Queen of Peace Church, 820 North Hills Avenue, Ardsley, PA, where relatives and friends will be received from 9:00 AM until 10:20 AM. Interment will be private.
In lieu of flowers, memorial contributions may be sent Sarcoma Research Fund at Pennsylvania Hospital, Penn Medicine, 3535 Market Street, Suite 750, Philadelphia, PA 19104. (www.pennmedicine.org/giving)