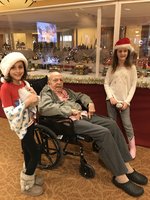 John Cochran Bockius
John Cochran Bockius died on Sunday, March 25, 2018.
He was a World War II Air Force veteran, a graduate of the University of Delaware, and a graduate of the Penn State University Dickinson School of Law. He was also a member of the Newark Presbyterian Church in Newark, DE.
He was preceded in death by his wife, Isabella S. Bockius, and his brother, Peter L. Bockius, Jr. He is survived by his sister, Joan Bockius Catts; and his 3 children, Edward C. Bockius, Thomas J. Bockius and his wife, Lorie; and Carolyn Bockius Jackson and her husband, Gabriel. He is also survived by 5 grandchildren.