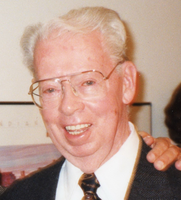 Calvert Harold Guilfoyle
Calvert H. Guilfoyle, 98 years old, of Blue Bell, PA died peacefully on March 23, 2018. He was predeceased by his wife, Elizabeth. He was the father of Tom (Jackie) and Jeanne, grandfather of Heather (Scott) Solish and great grandfather of Xavi.
Cal was born and raised in Philadelphia.
He served in the U.S. Army during WW II and was wounded in action in the Central European Campaign in March 1945. He was awarded the Purple Heart and the Combat Infantry Medal.
After being honorably discharged from the Army he attended Temple University on the G.I. Bill and worked as an accountant. He loved reading history, painting, sketching and playing the guitar.
There will be a memorial service celebrating Cal's life at 11:00 AM on Saturday, April 14, 2018 in the Auditorium of Normandy Farms Estates (ACTS), 9000 Twin Silo Drive, Blue Bell, PA 19422, where friends will be received from 10:00 Am until the time of the service.
The family requests that any donations be made to ACTS Hospice 812 N. Bethlehem Pike, Ambler, PA 19002 or Ubuntu Pathways, 32 Broadway, Suite 414, New York, NY 10004 (www. ubuntupathways.org)