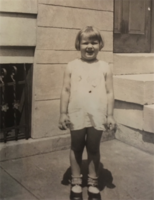 Florence Rita "Dolly" Manfredonia
Florence Rita "Dolly", (neé Schmitt), age 86, of Jenkintown died on February 18, 2018. She was loving mother to Linda R. Manfredonia (William News) of Jenkintown. She is also survived by her 2 grandchildren, Kathryn News and Madalyn News; her niece, Donna Murray (Peter), and nieces and nephews, Christine Murray, Valerie Murray, Eric Schmitt, Karl Schmitt and Leigh Schmitt.
Born in Philadelphia to the late Charles W. and Florence (Nicholls) Schmitt, Dolly became an office clerk in the Clothing Industry.
A service celebrating her life will be held on Saturday, March 3, at Helweg & Rowland Funeral Home, 1059 Old York Road, Abington. Friends and family will be received from 9:00 AM to 11:00 AM and the service will begin at 11:00 AM. Interment will be private. A luncheon will follow the service.
In lieu of flowers, memorial contributions may be sent to Montgomery County SPCA, 19 E. Ridge Pike, P.O. Box 222, Conshohocken, PA 19428-0222 or at montgomerycountyspca.org.