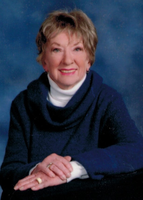 Marlyn O. Bennett
Marlyn Lois Bennett, age 86, of Hatboro, PA died on February 1, 2018. She was the daughter of the late Frank Ohlemeyer and Sophie (Gutgesell) Ohlemeyer, and devoted wife of the late Richard Bennett. She is survived by her niece, Nancy and John Austin; grandnephew William and Molly Austin; grandniece Julie Austin; cousin Jack and Sue Parks and their children Kiersten and Kyle Groff, and Laura Parks; and cousins Henry Parks and Richard Parks. She was preceded in death by her brother, William Ohlemeyer.
Marlyn was born in Philadelphia and attended Kensington High School. She then received a Bachelor of Arts from the Moore Institute of Art. After graduation, she worked as an artist in graphic design and advertising for many years. She was also a longtime member of Oreland Evangelical Presbyterian Church. In her spare time, Marlyn was active in the Women's Association and Circle, enjoyed gardening, and spending time with the shut-ins where she lived. She also enjoyed reading, shopping, and getting together with friends.
A funeral service will take place on Thursday, February 8, 2018, Helweg & Rowland Funeral Home, 1059 Old York Rd, Abington, at 11:00 AM, where friends and family will be received from 10:00 AM until the time of the service. Interment immediately following the service in Hillside Cemetery. In lieu of flowers, memorial contributions can either be made to the Oreland Evangelical Presbyterian Church, 1119 Church Road, Oreland, PA 19075, or to the American Diabetes Association, 2451 Crystal Drive, Suite 900, Arlington, VA 22202.