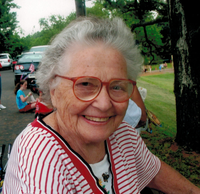 Elizabeth Ruth "Betty" Cypres
Elizabeth R. "Betty" Cypres (née Eisenlohr), age 93, of Elkins Park died on January 18, 2018. She was the beloved wife of Robert M. Cypres and beloved mother of Robin Capecci, Susan Dudkin, and Ellen Cervone, and is also survived by 7 grandchildren. She was preceded in death by her mother, Mary Stewart Eisenlohr, and her father, Walter H. Eisenlohr.
Betty was born in Philadelphia and raised in Jenkintown, where she graduated from Jenkintown High School in 1942. She served in the Women's Army Corps during World War II from 1944-46. Returning from service, Betty received a Bachelor of Science from Beaver College (now Arcadia University) in 1949 and an RPT for Physical Therapy from the University of Pittsburgh in 1950. She was then a Physical Therapist for the Albert Einstein Medical Center – Jeanes Hospital from 1950 until her retirement in 1983.
Funeral Service will be held at 11:00 AM on Wednesday, Jan. 24, 2018, Helweg & Rowland Funeral Home, 1059 Old York Road, Abington, where relatives and friends will be received from 10:00 AM until the time of the service. Interment in Washington Crossing National Cemetery will be private. In lieu of flowers, memorial contributions may be made to MossRehab, Attn: Office of Development, Braemer Education Building, 5501 Old York Road, Philadelphia, PA 19141, or at www.mossrehab.com/about-mossrehab/ways-to-give.