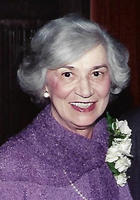 Jane Hartman Griffith
Jane Hartman Griffith, age 99, of Meadowbrook, PA died peacefully on January 15, 2018 at home. Jane was born in Kauffman Station, PA, the daughter of Judith (Wingert) and John Hartman. She attended Browns Mill Consolidated Elementary School in Kauffman Station and later Chambersburg High School. She then worked in the office of the Register and Recorder in Chambersburg. Afterwards, she attended Bridgewater College and later earned her nursing degree from the University of Pennsylvania in 1944. During WWII she served in the Nurses Cadet Corps. She worked for a short time as a nurse before marrying Charles Griffith Jr. Jane devoted much of her life to him and her son Charles, III. The family spent many wonderful times with friends and relatives at Lake Constance in the Poconos where they had a charming cottage.
Jane's husband, Dr. Charles Q. Griffith, Jr. and their son, Charles Q. Griffith, III predeceased her in 1997 and 1973, respectively. Jane is survived by her sister, Patricia H. Crain of Capistrano Beach, CA and numerous nieces, nephews, great-nieces and great-nephews. She was predeceased by her siblings, Floe H. Walker, Lowell Hartman, Owen Hartman, Naomi H. Stoyan, Jay Hartman, Judith H. Pennell and Leslie Hartman.
The family will receive friends on Tuesday, January 23, 2018 at 10:00 A.M. prior to a Funeral Service at 11 A.M. at the Wayside Chapel located in Whitemarsh Memorial Park, 1169 Limekiln Pike, Ambler, PA 19002. Interment immediately following the service.
The family wishes to thank Mary O'Brien and her caregivers for the exceptional care and love they extended to Jane.
One may send flowers and/or memorial contributions may be made to Juniata College, Charles Q. Griffith, Jr. Scholarship Fund c/o Juniata College, 1700 Moore St., Huntingdon, PA 16652 or the University of Pennsylvania School of Nursing, Clair M. Fagin Hall, 418 Curie Blvd. Philadelphia, PA 19104.