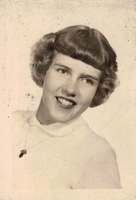 Sally P. Joseph
Sally P. Joseph, age 81, of Abington, PA died on December 8, 2017. She was the beloved wife of Jerrold H. "Jerry" Joseph.
She is also survived by her loving children and their spouses: William S. Joseph, Amy S. and Thomas McKeegan and James J. and Michelle Joseph, by her dear grandchildren: Kevin McKeegan, Michael and Momo McKeegan, Jessica Joseph, Katie McKeegan, Sarah Joseph and Anna Joseph and by her great-grandson, Kai Joseph.
Memorial service will be held at 11:00 AM on Saturday, December 30, 2017, Abington Presbyterian Church, 1082 Old York Road, Abington, where relatives and friends will be received from 10:00 AM until the time of the service.
In lieu of flowers, memorial contributions may be sent to Arthritis Foundation, 400 Market Street, Suite 610, Philadelphia, PA 19106 (www.arthritis.org/eastern-pennsylvania)