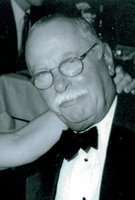 Robert J. "Bob" Evans
Robert J. Evans, age 85, of Normandy Farms Estates died on November 22, 2017.
He was the beloved husband Joan M. Sparta Evans. He is also survived by his loving children and their spouses: Robert J. and Sheri Evans, Antonia E. and Paul C. Winters, Thomas C. Evans, John R. and Vettina Evans, by 10 grandchildren and by three great-grandchildren.
Relatives and friends will be received on Monday, Nov. 27, 2017 from 7:00 -9:00 PM, Helweg & Rowland Funeral Home, 1059 Old York Road, Abington. Funeral Mass will be celebrated at 10:30 AM on Tuesday, Nov. 28, 2017, St. Hilary of Poitiers Church, 820 Susquehanna Road, Rydal, where relatives and friend will be received from 9:30 – 10:20 AM. Interment will be private.
In lieu of flowers, memorial contributions may be sent to Catholic Foundation of Greater Philadelphia, 100 N. 20th Street, Ste. 301, Phila. PA 19103 (www.catholiccharitiesappeal.org)