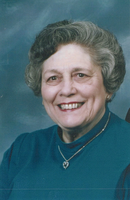 Marie Michelina Giangiulio
Marie Michelina Giangiulio, age 93 of Telford, PA died on November 15, 2017. She was the devoted wife of the late Donato D. Giangiulio and the loving mother of the late Ronald Giangiulio.
She is survived by her loving children and their spouses: Dr. Dennis J. and Nancy Giangiulio and Joanne M. and James Bickley and by her dear grandchildren and great-grandchildren.
Funeral Service will be held t 10:30 AM on Saturday, November 25, 2017, Helweg & Rowland Funeral Home, 1059 Old York Road, Abington, where relatives and friends will be received from 9:30 AM until the time of the service. Interment will be in Whitemarsh Memorial Park.